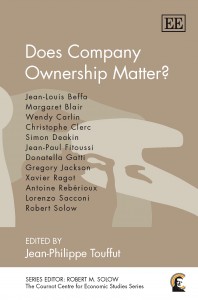 Contributors: Jean-Louis Beffa, Margaret Blair, Wendy Carlin, Christophe Clerc, Simon Deakin, Jean-Paul Fitoussi, Donatella Gatti, Gregory Jackson, Xavier Ragot, Antoine Rebérioux, Lorenzo Sacconi and Robert Solow
Edited by Jean-Philippe Touffut
Edward Elgar 2009
The 2008 financial crisis has caused the validity of theshareholder-oriented model to be scrutinized. Was the model right? Was it just that the regulations were inadequate, or was it the financiers' greed? Should we not have earnestly searched for another model? Originally presented a year before the crisis, thepapers in this volume did more than anticipate such debate. This book provides excellent food for thought for anyone interested inhow to reconstruct the corporate economy.
– Masahiko Aoki, Stanford University
Do modes of management depend on company ownership? Does macroeconomic performance rely on shareholder value? The contributions collected in this book explore these questions from economic, historical and legal perspectives. They examine company ownership through the study of national institutions, with particular focus on North America and Europe. The 12 economic and legal specialists of this volume seek to explain why firms organized along the shareholder model have not outperformed other forms of ownership. Answers lie in the historical and institutional background of each country.
This book will appeal to a wide-ranging audience encompassing researchers, students and academics in the fields of corporate governance, company law, finance and organization theory.
The first versions of these texts were presented at the Cournot Centre's conference, Does Company Ownership Matter?, held 29-30 November 2007.