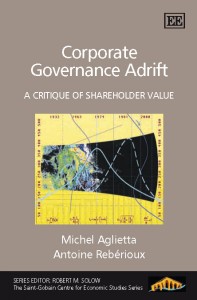 Michel Aglietta and Antoine Rebérioux
Edward Elgar 2005
Corporate Governance Adrift is a challenging book… the authors have succeeded in creating a work that is consistently fascinating and an argument that is lucid and gripping without ever compromising its intellectual weight.
– Manifest
Recent corporate governance scandals have brought to the fore the inherent contradictions of a capitalism dominated by financial markets. This challenging book by Michel Aglietta and Antoine Rebérioux argues that capitalism's basic premise – that companies must be managed in the sole interest of their shareholders – is incongruent with the current environment of liquid markets, profit-hungry investors and chronic financial instability.
The authors advocate rather that a company should be managed as an institution where common objectives are developed for all stakeholders, and that this democratic principle should be extended to the management of collective savings to reduce macro-financial instability. These two conditions, they contend, could make contemporary capitalism a vehicle for social progress.
Corporate Governance Adrift has been translated and published in Spanish and is forthcoming in Portuguese.