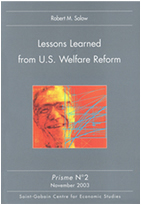 Prisme N°2
Robert Solow
Prisme N°2 November 2003 (155.4 KiB)
The 1996 U.S. Welfare Reform Act concentrates, almost solely, on getting people to work and off socially assisted programs. The reform has produced changes in the structure of benefits, introduced time limits, strengthened requirements for mandatory participation in work-related activities and changed various administrative procedures. The implementation of this federal Act has been largely left to the discretion of the individual states.
The law has been in effect for seven years and is up for reauthorization. It is thus time to assess its mechanisms and outcomes. Welfare reform is responsible for a portion of the increase in beneficiaries' work and earnings. Most evidence from econometric studies points in this direction. Many of these studies, however, overlook the fact that employment and the demand for welfare assistance are heavily influenced by macroeconomic factors among other things.
In this booklet, Robert Solow evaluates these analyses and provides direction for future reforms.
• Order free of charge